Heavy Transport
We are the specialists in superlative transport solutions
Europe-wide heavy or oversized transports are our daily business. We are specialists in superlative transport solutions. Whether road, rail or water – we realize your logistics project, all in one place.
To date, Bohnet GmbH has carried out transports with unit weights of over 700 tonnes and dimensions of more than 100 meters in length, 15 meters in width and 15 meters in height. As project specialists, we transport an annual volume of around 100,000 tonnes of heavy and oversized cargo throughout Europe.
We have our own ultra-modern fleet of 12 truck units and 160 combinable axle lines and can, therefore, provide the appropriate means of transport for every project. Thanks to more than 50 years of experience in the field of heavy transport, our extensive know-how and the flexibility to respond to individual customer requirements, we are able to design tailor-made logistics concepts and handle even highly complex transport orders professionally and successfully.
Projects
including rail logistics, heavy lift shipping and air freight charter - a one-stop service
The complete handling of multimodal logistics projects is the core competence of Bohnet GmbH. As an international heavy transit company, we realize your transport orders from a single source. Numerous references from well-known customers testify to our efficiency in international project management.
 At Bohnet, the choice of road, rail and water transport carriers is always based on the objective of transporting your cargo to its destination in a cost- and time-optimized manner. In addition to the pure transport of large plants, heavy parts or machines, our range of services includes various additional services.
Before your heavy goods transport is carried out, we take care of obtaining the necessary permits, carry out complex route inspections and organize accompanying transport - all throughout Europe. As a full-service company, we can, of course, also pack, store and assemble your cargo.
In addition to storing your heavy goods, we naturally also offer you the following services:
Packing and the transported good. Each package is individually tailored and adapted to your needs, before it's manufactured.
Packaging and logistics solutions

Handling & Storage
Bohnet GmbH owns large, company-owned heavy-goods storage facilities
Short-term or permanent storage of your transport goods - approx. 35,000 m² of hall and outdoor storage areas in fenced and guarded surroundings is available to you on our company premises in Kirchdorf and Erfurt. Our versatile storage facilities are all based in a convenient location, directly at strategically important traffic junctions.
With our indoor cranes, it is possible for us to store or transship transport goods with a weight of 65 to 80 tons directly in our factory halls. Heavy machines and loads can be placed with hydraulic vehicles and stored on robust steel blocks. We can also offer you storage and assembly areas in Hamburg, Mannheim and Voerde on request.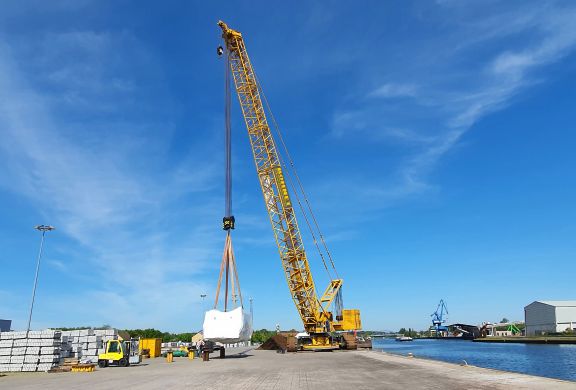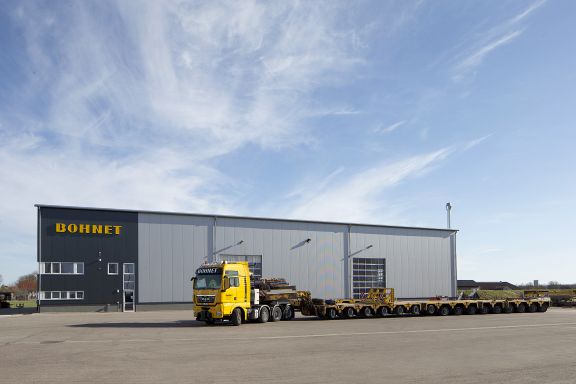 Our service portfolio:
Project planning and customer consulting
Development of engineering services within the scope of our projects by experienced graduate engineers
Use of highly qualified and skilled workers with many years of experience in mechanical and electrical engineering
Dismantling and reassembly of complete machines and plants worldwide
Complete company relocations regionally and globally
Construction of new machines and plants
Air cushioning work
Working with the mast
Equipment:
Hydraulic lifting scaffolds up to 800 t
Hydraulic step lifting technology up to 1,000 t
Air cushioning systems up to 400 t
Machine transport systems up to 140 t
Air-pad systems up to 600 t
Strand jack for lifting work with variable steel construction up to 800 t